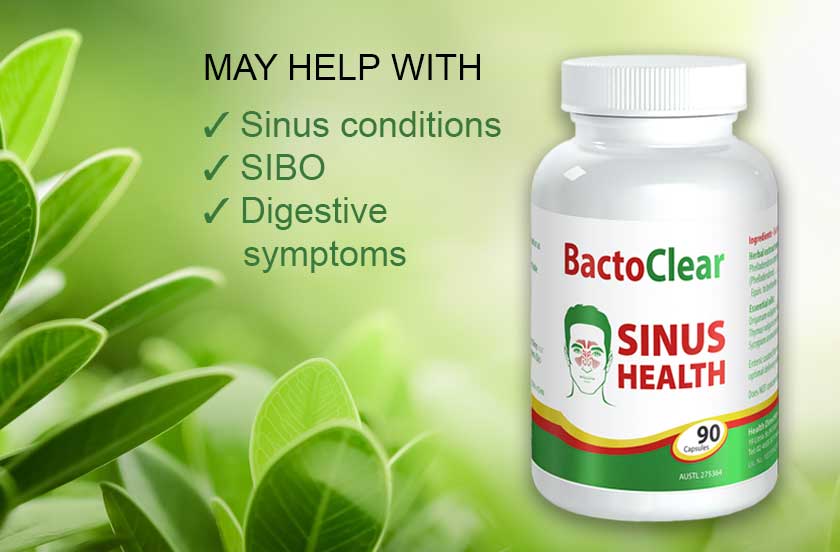 Provides relief from sinus congestion
BactoClear Sinus Health formulation combines the essential oils of antimicrobial herbs to help improve sinus and intestinal health. Clove, oregano, thyme and phellodendron have been specifically combined in an enteric coated capsule to be released directly into the small intestine.
BactoClear Sinus Health may help with:
Sinus conditions: BactoClear Sinus Health could help with maintaining healthy sinuses.
Digestive symptoms: Overgrowth of undesirable organisms in the digestive tract can lead to a range of symptoms including reflux, indigestion, bloating and flatulence. Our formula may help to reduce the overgrowth of these organisms and may assist in reducing these symptoms.
Small Intestinal Bacterial Overgrowth (SIBO): SIBO occurs when there are abnormally high levels of bacteria in the small intestine. The herbs in BactoClear Sinus Health may assist with reducing the bacteria to restore a healthy balance. SIBO is commonly present in a number of health conditions including medically diagnosed Irritable Bowel Syndrome (IBS).
Signs and symptoms of SIBO:
Sinus conditions
Reflux
Heartburn
Flatulence
Medically diagnosed irritable bowel syndrome (IBS)
Bloating after eating
Each capsule contains:
| Herbal extract equivalent to: | |
| --- | --- |
| Phellodendron amurense, stem bark dry (Phellodendron) (equiv. to berberine 17.91 mg) | 750 mg |
| Essential oils: | |
| Origanum vulgare, leaf, essential oil (Oregano) | 100 mg |
| Thymus vulgaris essential oil (Thyme) | 50 mg |
| Syzygium aromaticum essential oil (Clove bud) | 50 mg |