HCG Changed My ENTIRE Lifestyle
HCG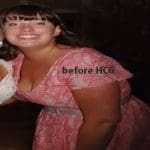 was the key that changed my outlook not only on my life choices but my ENTIRE lifestyle. I had always struggled with my weight and gained about 30 kgs from 2010-2014.  I, like many others, had tried everything.  I would exercise myself ragged; watch everything that went into my mouth but never saw great change.  This began a very vicious cycle that would see me instantly give up when results weren't gained.
My parents had always supported me and tried to help however they could when I was trying something new to shift the weight. When Mum relayed some information about HCG and the potential that it held I was extremely excited, and this is where the change started.
The first few days were definitely a challenge, having to load my body with foods that I would normally avoid.  I must have done a good job on the splurge days because from days 3-7, I didn't have any detoxing symptoms.  I was dreading those days because I knew they would be hard, I found that my biggest helper was keeping myself busy.
I am a school teacher and started the course during the school holidays.  I was in a routine by the time term began and having a kindergarten class was a great benefit as they most definitely keep you busy.   Another vital component to my success was making a lot of variety out of the limited variety of vegetables. Chicken was the protein I favoured the most, and I tried to be as creative as possible when it came to lunch and dinner ideas.  A huge realization came, after my first protein day, which showed me how trained I had become to eating; I was blown away on my first protein day at how I made it through and didn't need to eat.
Other changes, aside from the obvious pounds and inches, was the reduction in sweating that I had.  It dawned on me, in about my 5th week, I wasn't getting hot flushes like I used to and sweating for no reason; I can definitely say that I was glad to see the back of those symptoms.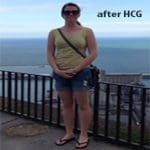 Overall, I lost 17.7 kgs, as well as a staggering 67.5 cm in total from my neck, arms, thighs, chest, waist and hips.  I am now in the stabilization phase and have returned to the gym.  I am feeling fantastic and still can't quite believe that I am where I am.  I am so truly grateful for the new lease on life that the HCG program has given me.
To Dr Sandra Cabot and her Clinic associates, thank you, thank you a thousand times over.  You provided the doorway and the key to my new life and I will be eternally grateful.
Charlotte H, Moss Vale NSW
And now a few words from Charlotte's parents
Hi to the team at the Cabot Clinic,
I just wanted to express our sincere thanks for the way you managed Charlotte through the HCG plan.  Now in stabiliSation, she is going ahead in leaps and bounds.
As a parent seeing one's offspring become "someone else," in both mind and body, was very hard to accept and even harder to do something about.  One cannot afford to offend or cause the child stress, at the same time one cannot stand by and 'hope' that it will change.  One must be proactive without being intrusive.
On finding the HCG information, I forwarded it to Charlotte and you can attest to the rest.  She is very much back to her former self again, in her words, she "feels fabulous."  Still, with some weeks of work to do, she is so driven by the success and determined in a way we have not seen in her for more than 5 years.
Thank you for your care, direction, conviction, inspiration, diligence, patience (with her thousands of questions), and most of all for being such great mentors and wonderful people.  We are humbled by the results.
With big hugs to you and a million thanks
Maur & John H, Moss Vale NSW